Venus Viva™ helps tighten lax skin and rejuvenate the face and neck without surgery
Venus Viva™ offers a safe, non-invasive rejuvenating treatment for all skin types.
Using a hand-held device, our talented Age Management team uses NanoFractional Radio Frequency™ technology to target problem areas, sending energy below the surface of the skin to heat the cells and stimulate natural collagen production.
How can Venus Viva™ help you?*
Tighten lax skin
Diminish visible pores
Even out skin tone and texture
Reduce hyperpigmentation
Diminish the appearance of rosacea
Reduce fine lines and deep wrinkles
Improve the appearance of acne scars
Treat 'necklace lines'
Rejuvenate the delicate skin around the eyes
*Individual results may vary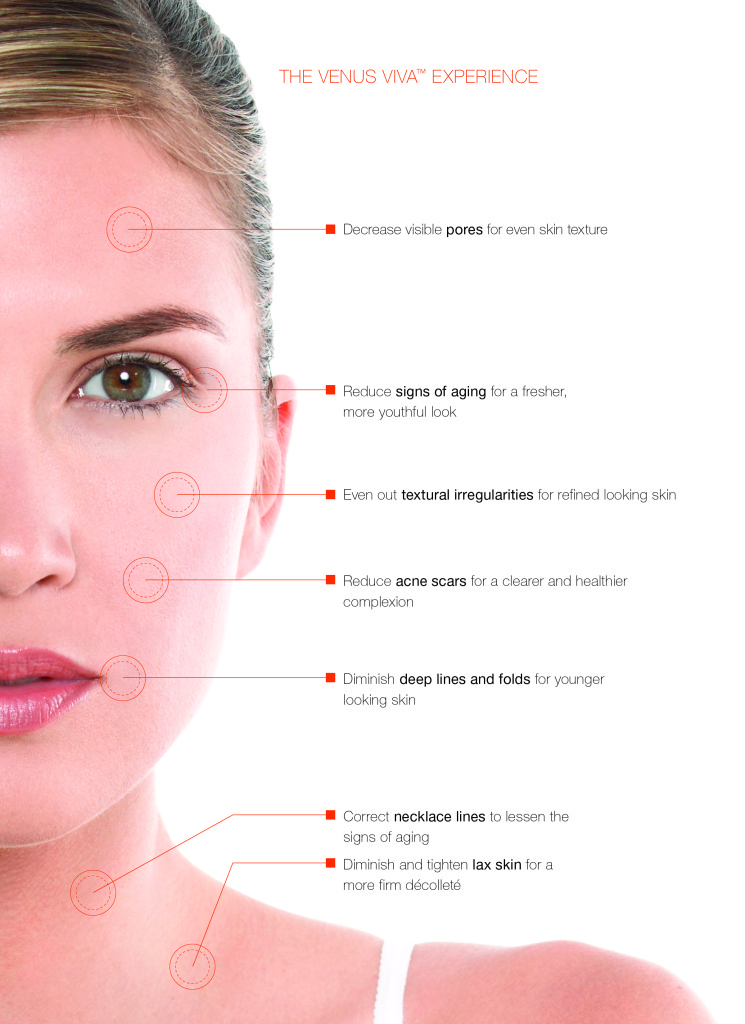 Wonderful results*, yet the treatment is so gentle, topical anesthesia isn't needed!
There is minimal downtime, as little as 24 hours, with Venus Viva™. Following your treatment, the skin will appear red and feel slightly warm. The degree of redness and possible irritation will depend upon the level of treatment, as discussed with our Calgary medical team.
To help camouflage the redness, we recommend using Jane Iredale mineral powder. And we will provide a complimentary application following your treatment to send you off in style.
Reserve your complimentary Venus Viva™ consultation at Age Management Institute in Calgary.
Venus Viva™ Before and After Photos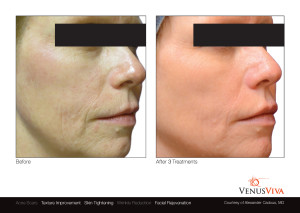 After three treatments*
texture improvement
skin tightening
facial rejuvenation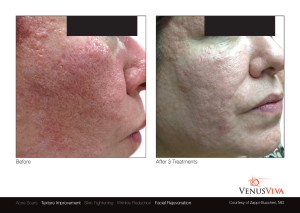 After three treatments*
texture improvement
facial rejuvenation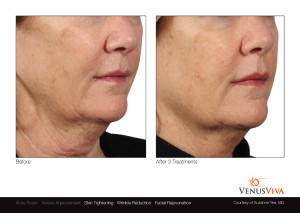 After three treatments*
skin tightening (very noticeable on neck 'waddle')
wrinkle reduction
facial rejuvenation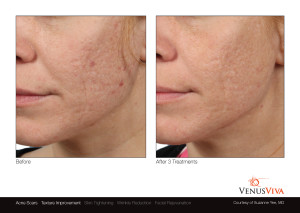 After three treatments*
acne scars reduced
texture improvement
*The number and results of treatments will vary, depending upon your skin, health, lifestyle and the severity of your condition.
Call 403.265.4142 to reserve your Venus Viva™ consultation and treatment with our anti-aging experts in Calgary.