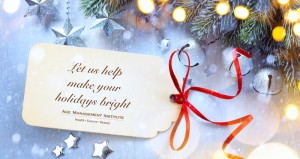 Want help to look your best for the holidays?
We have a gift for you
compliments of Age Management Institute & Radiesse
At Age Management Institute, we understand the challenges of balancing work, life, kids and budgets. We want to help with a special offer for the holiday season.
Buy two syringes of Radiesse for facial rejuvenation
and receive another syringe free* to treat your hands!
Radiesse  is an effective dermal filler treatment designed to restore volume and build collagen. It's also ideal for  t reating hands where it helps reduce the appearance of veins. 
*As always, your appointment will include a complimentary consultation with Dr. Lourens to ensure the  treatment is right for you.  Offer valid until December 18, 2015 or while supplies last.
Please call 403.265.4142 or email us to reserve. Don't miss out!
Happy holidays to you, thanks to the generous support of our supplier –