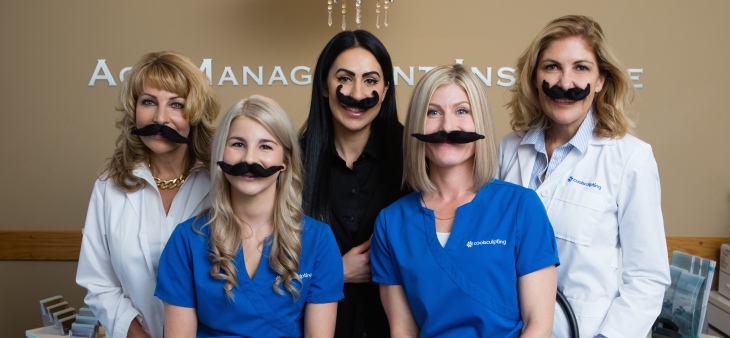 Age Management Institute in Calgary
encourages everyone to think
about men's health this Movember
The statistics for men's health are alarming. Avoidable mortality accounts for 74% of premature deaths among men.
Dr. Lizette Lourens, anti-aging expert at Age Management Institute offers these tips for men (and women) to help reduce your risk of cancer and other disease:
Enhance your immune system. Use good food and healthy eating as prevention. Proper diet can control your blood glucose, help your digestion and keep you at a healthy weight

Exercise. Find an activity you enjoy and make it part of your regular routine. Walk to and from work. Get out for a walk during your lunch break. Join a soccer/hockey/sports league. Take dancing lessons! Whatever you enjoy – stay active.

Reduce your stress (and exercise can help with that, too!). Feeling stressed? Take a break. Step away from the situation for a few minutes. Take some deep breaths. Try meditation.

Take supplements. The proper nutritional supplements can work as cellular healers. Come and see us for a consultation to identify what your body may be lacking. And take medical-grade supplements to ensure they're actually contributing to your health.

Get the weight off. Need help? We have a range of programs to assist.

Balance your hormones. Properly balanced hormones are critical for women and men! Men are at risk when testosterone drops and estrogen increases, especially if obesity and insulin resistance are present.
At Age Management Institute, we're here to help you age healthily and happily with personalized programs to address your individual issues. Call 403.265.4142 or email us to schedule an appointment.