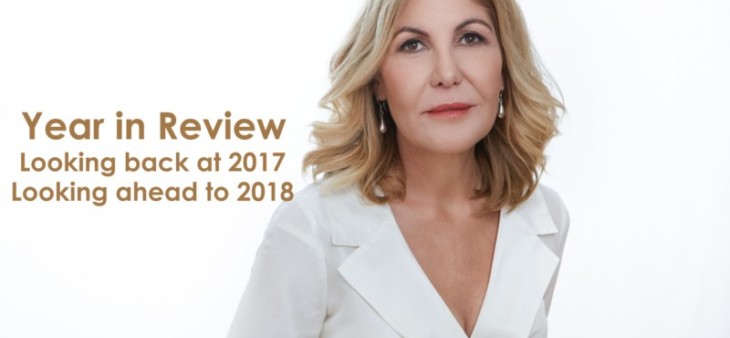 2017 is now in the rear view mirror, and our team is spending this month mapping out new and exciting things for the upcoming year!
As we look ahead, we're also reflecting on the year we've just completed, and it is uplifting to see the energy, enthusiasm and success of our team and our clients.
Highlights from 2017:
Enhanced Wellness Programs
We have revamped and improved both the men's and women's wellness programs and congratulate all of our clients who have made this commitment to their well-being. We know it's not always easy and it takes time – but you're seeing the improvement in so many ways and it's evidenced on a bio-chemistry level. Our wellness programs are a marathon, not a sprint – but the benefits to your long-term health and wellness are worth it!
New CoolSculpting equipment
CoolSculpting remains a popular treatment for losing those stubborn fat pockets. In June, we invested in the new CoolAdvantage and CoolPetite applicators to deliver more comfortable treatments, faster! These hand pieces can be used to freeze the fat on your belly, inner thighs, arms, love handles, bra fat and on the chest, for men. Treatments take almost half the time they did previously – now just 35 minutes instead of a full hour! Consultations are free, so book yours today to learn more.
Turkey Neck Treatment
So many women visit us, discouraged by the appearance of their neck as they age. That's why we created our Turkey Neck Treatment – a non-surgical 'neck lift', combining Selphyl and Venus Viva, along with Environ moisturizer for at-home care.
Skin Booster Treatments
Skin Boosters provide deep skin, intense hydration using hyaluronic acid. And Restylane SkinBooster Vital Light is an effective, thin under-eye filler.
Sculptra
With updated injection techniques, we've seen an increased number of our clients embracing the longer lasting, collagen-building treatment, Sculptra. The trend is toward more natural treatments and Sculptra helps your body naturally build collagen and restore volume.
FemiLift
We are thrilled to see more and more women seeking FemiLift treatments; and they're thrilled with the results. Several clients have called it 'life-changing'! Women are recognizing that urinary incontinence and painful sex can be treated, and without surgery.
Age Management Institute in Calgary also welcomed two new members to the team:
Dr. Charl de Wet, Clinical Psychologist
Paula Erickson, Medical Office Assistant
We introduced a few new products in 2017
We expanded our skin care product offerings by adding the Roll-Cit, an at-home micro-needle roller that boosts product absorption by 100% to more effectively deliver valuable ingredients to the skin
Our clients are loving the Environ product line, especially the AVST Step-up Vitamin A Moisturizer with Colostrum to help heal the skin and give it much needed moisture in the dry, Calgary climate
We continued our commitment to ongoing education
At Age Management Institute, we're firm believers that the learning never stops. We are constantly participating in advanced training sessions, attending seminars and conferences and learning new techniques and treatments so we can better serve our clients.
This past year, Dr. Lizette's educational pursuits included some advanced medical training:
The BaleDoneen Preceptorship Course in Clearwater Florida on the prevention and treatment of cardiovascular disease
Institute of Functional Medicine Annual Conference – The Dynamic Brain; Revealing the Potential of Neuroplasticity to Reverse Neuro Degeneration in Los Angeles
Institute of Functional Medicine Advanced Hormone Module in Chicago
Institute of Functional Medicine Advanced Clinical Training Reversing Cognitive Decline Module
And she also continued her training in medical aesthetics:
Advanced Sculptra Training by dermatologist Dr Feraz form Brazil
Skin Boosters, a new product from Restylane, which we have now included on our treatment menu
It was also a busy year of learning for Leah, our CoolSculpting Specialist and Medical Aesthetics Assistant:
Advanced CoolSculpting training at CoolU (CoolSculpting University) in Pleasanton, California
Became an Environ SkinHealth Coach after the Environ Coaching Conference
Additional Environ training in December to further build her knowledge
Jane Iredale Foundation for Beautiful Skin Training
Jane Iredale Bridal Artistry Course
Environ Dermal Needling training (watch for the launch of dermal needling in 2018)
Began a one year program for her certificate for Functional Medicine Health Coaching (she will be graduating this summer from this intense program)
Though Paula is just getting started with Age Management Institute, she jumped on board quickly to enhance the experience of our clients by taking Environ Skin Health training and the Jane Iredale Foundation for Beautiful Skin training.
We look forward to the year ahead – stay tuned for some exciting announcements of more new programs for your enhanced health and wellness.
Cheers to another year of happy, healthy aging –