Stay at the top of your game 
with Age Management Institute's Wellness Program for Men
90% of health risks come from lifestyle and many conditions can be corrected with changes to your diet and routine. We're here to help identify the cause of your symptoms and create a path to enhanced health and wellness.
Optimum testosterone levels can help men experience a more positive outlook on life, increased energy, improved mood, sharper mental acuity as well as restoring their sex life.
Low testosterone levels are present in 30 – 40% of men between the ages of 45 – 55 and may be present even  earlier. Head trauma or concussions are a common reason for low testosterone in younger men. Other conditions indicating low testosterone are obesity, diabetes, hypertension, high cholesterol and erectile dysfunction.
For men struggling with low testosterone levels, getting in the mood may not be as easy as it used to be but bio-identical hormone therapy for men can help – and has benefits beyond those offered by the notorious little blue pill. But low testosterone levels don't always manifest themselves in a sexual manner.
Symptoms of Low Testosterone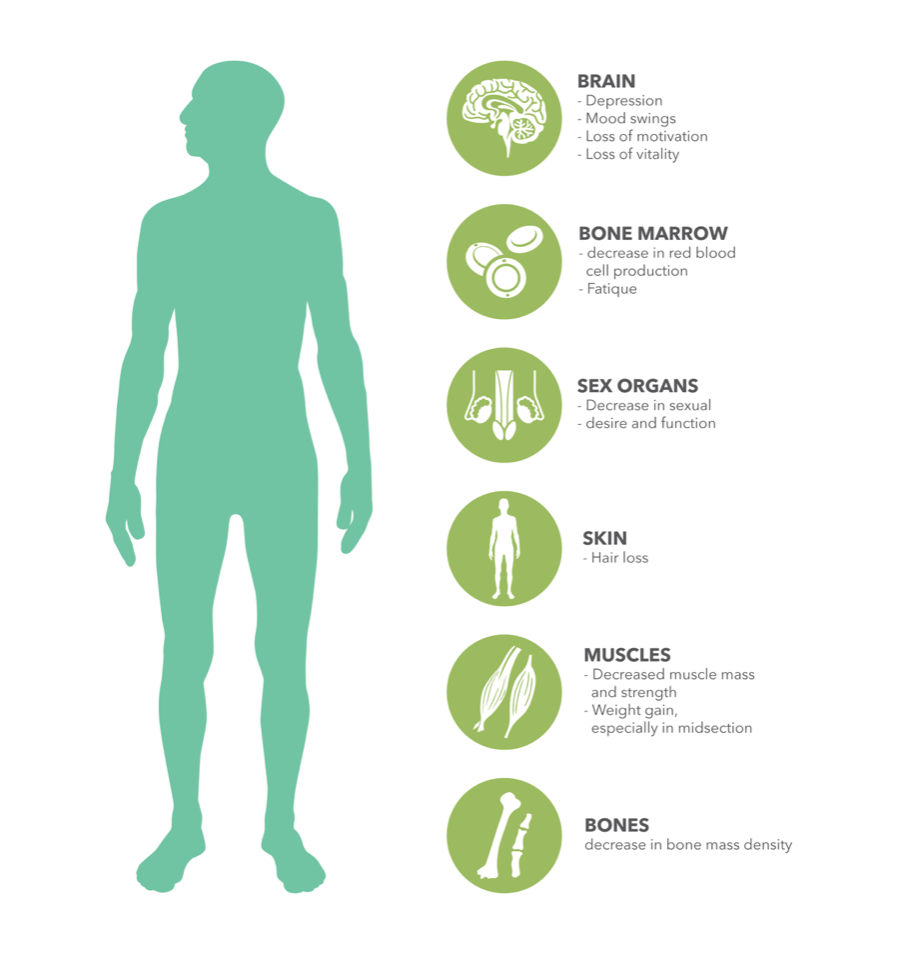 Men's Wellness Program
1st Appointment:

60 minutes
Review of your medical history, medications and current supplements

Review of medical and lifestyle conditions that may affect your weight, mood and brain health, as well as signs of hormone deficiency

Lifestyle changes, exercise and suggested reading will be discussed

Blood work requisition form provided 
Testing included in the program:
Heart Rate Variability Testing – to determine how well your body responds to stress, autonomic nervous system regulation of internal organs,  including the heart, stomach and intestines, and adrenal function

Digital Pulse Wave Analysis – a cardiovascular screening test

Bioelectrical Impedance Analysis (BIA) – to measure the biological markers of aging. It also provides information on muscle mass, body fat, cellular function and toxicity
2nd Appointment:

30 minutes
Dr. Lizette Lourens will review your results and formalize a customized treatment plan

Test results will be thoroughly explained and metabolic correction options will be discussed

Further testing may be requested; for example, Vitamin D testing or genetic testing may be recommended to determine health risks

Prescriptions may be presented, if needed, and will be evaluated based on other medical conditions present and medications and supplements used

The use of supplements and nutraceuticals to address specific problems and the safe use of hormones will be thoroughly explained. While there is an abundance of supplements available on the market, all are not created equal. While on the program, we require you use pharmaceutical grade supplements to ensure optimum results.
3rd Appointment:

30 minutes
Your third appointment will be approximately three months after you began the program

Your progress, challenges, results and next steps will be discussed

Prescription refills will be completed, if required

Review of additional test results, if necessary. Results from genetic or other functional medicine tests required from previous visits will be reviewed and discussed thoroughly during this appointment
Follow up visits:

20 – 30 minutes
Follow up visits will vary depending upon your individual needs
After the first three appointments, Facetime or Skype consultations may be used to accommodate your busy schedule.
Recommended Resources:
The Blood Sugar Solution – Dr. Mark Hyman
Testosterone for Life – Dr. Abraham Morgentaler
Testosterone Syndrome – Dr.  Eugene Shippen