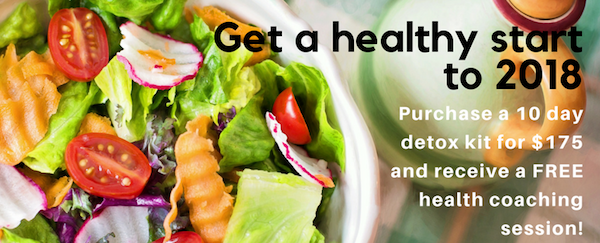 Whew! The holiday season is over and it's time to think about our goals and plans for the new year. For many of us, those goals include a commitment to enhanced health and wellness. We want to help you kickstart your plan in a healthy way with our 10 day detox and health coaching offer.
During the holiday period, we tend to eat more, exercise less, drink more alcohol, sleep less, and consume more sugary treats. Our body craves what it's accustomed to, so now's the time to break the sweets and treats cravings with a detoxification program.
Get a Clear Change 10 Day Metabolic Detoxification Program
plus a free 30 minute health coaching session for $175*

About the 10 day detox program
The Clear Change® 10 Day Program with UltraClear® RENEW from Metagenics provides all the energy you need to reduce your fatigue while enhancing your body's natural metabolic detoxification process. The package includes instructions, meal plans and recipes to guide your success. And best of all, the kit is available in three flavours – berry, vanilla and chai.
To view the program guide, click here.
Get a free 30 minute health coaching session*
With the purchase of your 10 day detoxification program from Age Management Institute, you will also receive a free 30 minute health coaching session with Leah Boucher. Leah is a certified personal trainer and has worked in the wellness industry for over 15 years in roles including sport team coaching, personal training, fitness programming and nutrition coaching.
During your coaching session, she will review the detoxification program, address any challenges or obstacles you may have in achieving your wellness and fitness goals, and help you to create a personalized plan. To help keep you on track, she will be following up by phone or email to help you successfully complete the detoxification process and establish healthy eating habits for the new year.
Stop by Age Management Institute to purchase your Clear Change® 10 Day Program with UltraClear® RENEW for $175* and reserve your free 30 minute health coaching consultation. 
Call 403.265.4142 for more information.
Here's to a happy, healthy 2018!
*Offer valid until January 31, 2018.
*Valid at Age Management Institute only; not valid for online orders.
*$175 price includes 10% discount offered on supplements for the month of January.