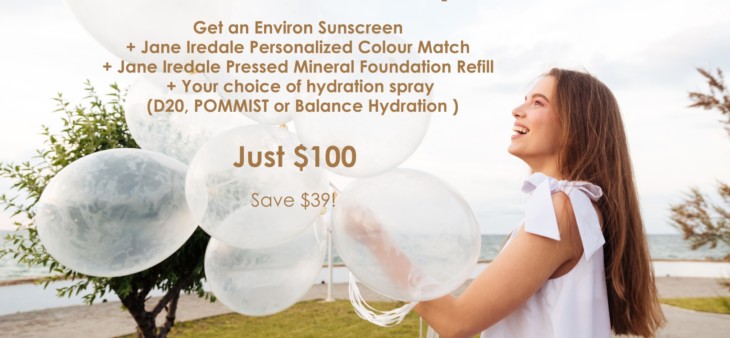 As the weather heats up, how do you keep your make-up from melting from your face?
Always apply sunscreen

Sunscreen is essential, not only to protect against skin cancer but also skin damage. Sun damage can cause the breakdown of collagen in your skin, causing wrinkles, sagging – and those brown spots are called sun spots for a reason! One of our preferred sunscreens is from Environ. It's creamy, making it easy to apply, and is SPF 25.
Use Jane Iredale Mineral Pure Pressed Powder

In the warmer months, we often wear less make-up but still want to smooth our look and cover imperfections. We recommend using Jane Iredale Pure Pressed Powder year-round – and especially in the summer. It doesn't contain any oils so it stays put, and it's non-comedogenic – so it won't clog your pores. For those taking a quick dip, it's even water-resistant to 40 minutes. Best of all, it's rated SPF 20. Weightless and sheer, it's perfect for summer.
Give your make-up staying power by setting it with a spray

A simple spritz after applying you make-up can help give it staying power. Here are our three picks –
D2O™ Hydration Spray
In addition to helping set your mineral make-up for a long-lasting look, it also helps hydrate your skin and calms inflammation, to reduce redness and itching. You can also use it to wet your make-up brushes and to turn powder eye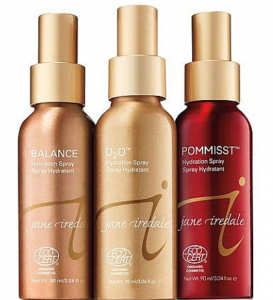 shadows into eye liner.
POMMISST™ Hydration Spray 
One of our most popular sprays, Pommist contains pomegranate extract, a powerful antioxidant and a UV protector – and it smells lovely! It will help to set your make-up and a quick spritz throughout the day will make your face look and feel refreshed.
Balance Hydration Spray 
In addition to hydrating, it can help balance your skin's oil production and pH. It's ideal for anyone with acne challenges – and those can happen to many of us during the summer months.
Want to learn more about summer skin care? Stop by Age Management Institute, or call 403.265.4142