Looking to lose those love handles, muffin top, belly pooch, or the bulges on your thighs? CoolSculpting can help!
CoolSculpting body contouring is quickly becoming a popular fat removal treatment for both men and women. Designed to get rid of those annoying bumps and bulges, it targets and eliminates those pockets of fat that are resistant to diet and exercise. Non-invasive, it freezes the fat cells in the selected area to induce a noticeable, natural-looking reduction.

And with a single treatment taking just 35 minutes, it's a fast, non-surgical solution for reshaping your body.
How does CoolSculpting work?
CoolSculpting body contouring is a non-surgical, fat removal treatment that allows you to, quite literally, freeze your fat from trouble areas on your body. Fat cells freeze faster than surrounding tissues. By targeting fat cells in a selected area, it freezes the fat cells, crystallizing them. Over the next few months, your body naturally processes the dead fat cells, leaving a more sculpted you.
What happens during and after the treatment?

During a CoolSculpting body sculpting treatment, you can simply lie back and relax—some guests even take a nap! To begin, we will position the CoolSculpting device on your body. It then draws the bulge up between the cooling panels. The sensation is a firm pull and pressure – enough of a pull to ensure the selected tissue will be cooled most efficiently.

CoolSculpting body contouring is completely non-surgical, so typically you can return to normal activities immediately. Often times, patients return to work immediately after their body sculpting session is over.  Some people experience redness, minor bruising, tingling, numbness or discomfort in the treated area, but this is temporary and will resolve completely.
When will I see results?

Results are dramatic! On average, CoolSculpting fat removal treatments result in a 20% reduction of fat in the treated areas. You may start to see changes as quickly as three weeks after your treatment, but will experience the most dramatic results after one to three months. Your body is still flushing fat cells and will continue doing so for up to four to six months afterwards. Typically, the most dramatic change will be visible over a period of two to four months.
Can anyone get a CoolSculpting treatment?
CoolSculpting body contouring is popular for both men and women, but it's not for everyone. The best candidates for this type of fat removal treatment are those who are at, or close to, their ideal weight – they exercise, eat right and have a pretty healthy lifestyle, but those stubborn pockets of fat persist. It's a fat loss treatment, not a weight loss treatment.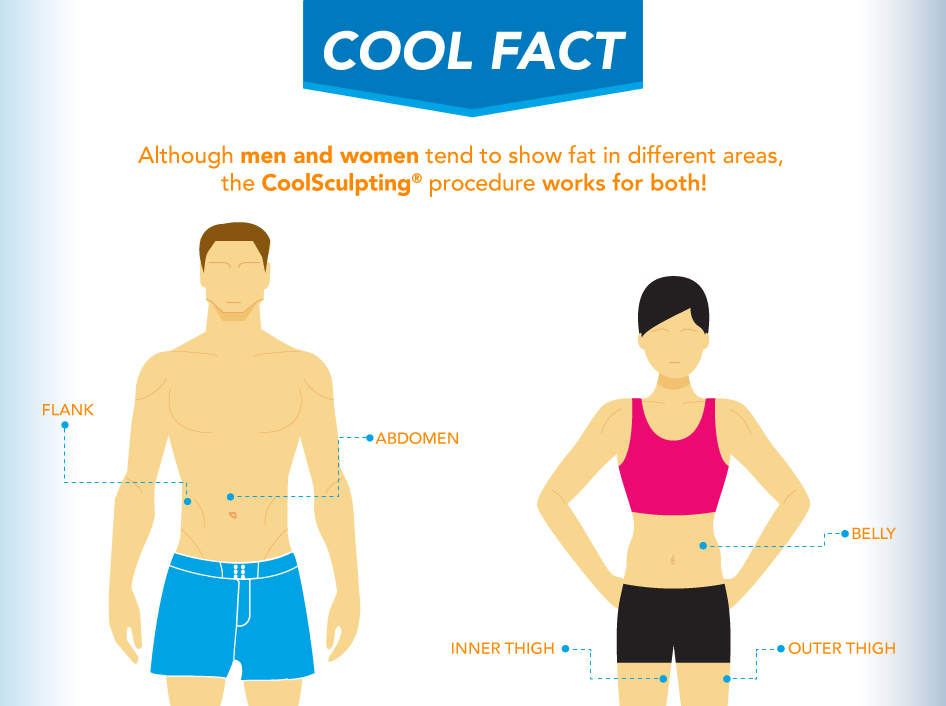 For those seeking to lose weight, Age Management Institute in Calgary and Canmore offers medically-assisted weight loss programs.
How many treatments will I need?
The number of treatments will vary with each individual, depending upon the area or areas you want treated, and your goals. Some patients are satisfied after one CoolSculpting body sculpting treatment, while others require more to achieve their desired look. During your free consultation, we will discuss a personalized fat removal treatment plan that meets your specific needs.
Are CoolSculpting results permanent?

During the CoolSculpting fat removal treatment, all treated fat cells are eliminated. As long as you maintain a healthy lifestyle, long-term results should remain stable.
Unsure if CoolSculpting body sculpting is for you? Visit us in Calgary for a free consultation. We are pleased to discuss your body challenges, expectations and help decide the best course of treatment for you.