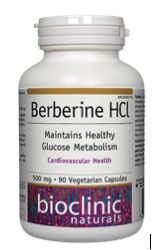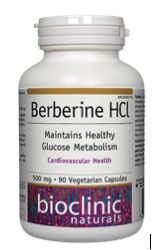 How Berberine may help you:
Pre-diabetes
Diabetes
Metabolic syndrome
Obesity and weight control
Gut health
Heart health
Antibacterial, anti-inflammatory and immune enhancing properties
Depression
Any condition that would be favourably impacted by losing weight and/or exercising more may be impacted favourably by oral berberine supplementation.
Extracted from various plants used in traditional Chinese medicine, Berberine has emerged as a potent cardio-metabolic aid with diverse benefits. It may be recommended for its anti-inflammatory effect, to lower insulin levels, and may also improve intestinal health and lower cholesterol. Berberine is also able to reduce glucose production in the liver.
If you're interested in learning more about Berberine and how it may assist you, speak with our Age Management Institute team to review your health needs and to determine the proper dose. Because of its short half-life, you generally need to take this supplement three times a day to keep stable levels in your blood.
How does Berberine work?
The fundamental mechanism of action underlying berberine's impact on human health is its action on the AMP-activated protein kinase (AMPK). This enzyme acts as the central energy regulatory control switch regulating how energy is produced and used in the body. Only a few chemicals are known to activate AMPK. Berberine is one of them.
Berberine activates AMPK in a manner similar to how exercise stimulates increased strength and weight loss. Thus, any condition that would be favorably impacted by a patient losing weight and/or exercising more may be impacted favorably by oral berberine supplementation.